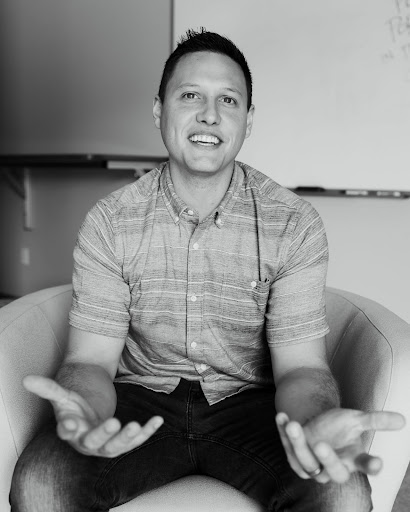 innovationIOWA is sharing profiles of the current members of Maple Studios, a startup studio for early-stage industrial technology companies based on the campus of Ramco Innovations in West Des Moines.

Jeff Reed, founder and CEO of Momentum Studios, shares about the company's journey below. Other members of the Momentum Studios team are Chief Operating Officer Laura Reed, Business and Education Specialist Kristy Volesky and Social Impact and Marketing Strategist McKenzie Kielman.

For recent coverage of Maple Studios, visit innovationia.com. Know a startup from around the state with an innovative idea to highlight? Email me at sarahdiehn@bpcdm.com for consideration.

Describe what your company does.
We are a strategy and innovation consulting company that is dedicated to assisting startups, top-tier companies, and social impact organizations worldwide in transforming their strategic visions into tangible achievements. Our approach to growth encompasses both individuals and organizations, equipping leaders with the tools to excel in the future, ignite fresh perspectives, develop vital skills, and tailor the strategic process to their specific needs.

When did you start it and why?
The company was launched five months ago, branching out from a prior business I had co-founded. As industries progress, the demand for strategic partners and problem-solvers remains constant across sectors. Having initiated several businesses before, the spirit of entrepreneurship is ingrained in me, so plunging into another venture was a natural step.

What makes a startup studio the right place for your business right now?
For our business specifically, the startup studio environment allows us to be surrounded by other entrepreneurs and startups. This creates a collaborative atmosphere where ideas can be bounced around, and feedback is readily available. We have found that strategic partnerships and potential customers have been generated as well purely due to proximity and the events and opportunities that have been provided.

What do you see as the next phase of growth for your business?
We aim to expand into our own dedicated innovation studio that can be customized to cater to our team and customers' requirements. As our team flourishes, so do opportunities on a local, state, national and global scale. We've rapidly broadened our reach globally, enabling us to address challenges irrespective of their geographic location. Last, we will be focused on ensuring our customers have a seamless and positive experience.